Active Member
Verified Owner
Joined

Dec 31, 2021
Messages

722
Cars

Lucid Air Grand Touring
Among my many hobbies is DIY HiFi. I build speakers and amps for fun and have a passion for really great sounding systems. There's a special kind of joy from listening to music on a system you designed yourself and is really dialed-in for the room. You get to realize the fruits of your hard work in a way that few other hobbies provide.
Ever since Lucid started marketing the Surreal Sound, I knew I had to get a proper test. With that in mind, I met up today with
@borski
to run some tests on the stereo using a measurement mic and a few reference tracks.
TL;DR: Excellent sound staging if a little bright on the treble, small drop around 130-200hz, great bass extension but needs some oomph. You'll probably want to bump the bass EQ +2 to +4 DB and the treble down -1 to -2 db (if it seems harsh at times, YMMV). Designed for long-listening without fatigue and brings out details you'll love to hear.
The Data
Below is the results of some test loops between 30hz-20khz. I used Room EQ Wizard on my laptop, connected to the Air via bluetooth.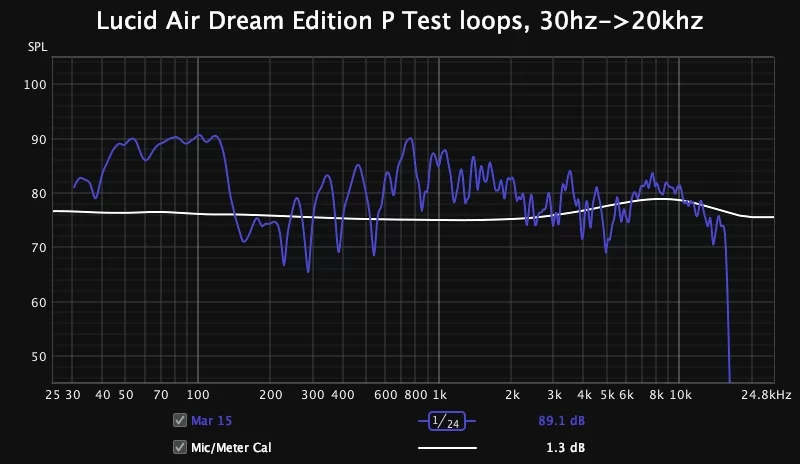 Caveats:
We ran this with both of us in the car, climate control off, but there's some reflections and background noise that make the graph rougher than it will really sound to your ears.
I was in the passenger seat which is going to have a disadvantage vs. driver for my impressions of music.
I intentionally did not test Atmos tracks. The goal here was pure 2ch stereo as that is what I know and can test the best.
[edit] Apparently, to connect a laptop to bluetooth you'll need to have it set up both as a phone and audio device in the Air.
Technical Impressions
Bass goes a long ways down, but has a -3db of 44hz before it levels off and then stays solid to ~26hz. This means a few of the deeper bass hits lack "oomph" but are not by any means missed.

This is something that could be adjusted for in EQ and I'm surprised they let it remain. I would have dropped the mid bass down ~5db and bumped up the absolute bottom to compensate.
The sub clearly rolls in at 150hz and has a lot of output. However, it isn't booming which means some tracks can feel light because we're used to overcompensated low-end in car stereos. This means you get a more "real" sound, but can lack a bit of excitement unless you crank it.

There's a dip after the sub where the mids roll in, rising to a pretty big hump at 700hz before rolling back as you go higher.

The midrange is very healthy. Music might seem more "full" than you're used to - that is how it should sound!
Lots of car stereos will lack output in several spots of 200hz-2khz range, resulting in entire instruments going missing on tracks (either due to DSP, reflection/cancellation, etc.) The lucid does not have this problem, despite the jagged response due to room modes.
The dip on the lucid at 130-200hz isn't that big of a deal as you won't notice it, except with very cello-forward or string-bass compositions.

The treble is a bit bright and could cause a bit of fatigue on long sessions.

That peak at 8khz is pretty noticeable, and some tracks might end up harsh.
The treble ends abruptly at ~16khz for some reason. This is probably the DSP as it definitely doesn't look like a natural rolloff on the tweeter. Since I was running pure 2ch output this could be Atmos' fault. It won't mess up your listening.
Impressions with Music
I was very happy with the sound staging and depth of response. Horns, strings, vocals, all excelled. We tested Ce Matin-là by Air for purity of a French horn, then Loyal by Odesza for a more complex arrangement. Both did extremely well with the instruments being very clearly placed with no "fuzz". We also gave Young by Vallis Alps a go for a slower-paced but dynamic track with my favorite combination of vocals and bass of late. The singer's voice was very clear, no ringing or harshness (very hard in a car) and the bass line was tight and didn't suffer from any phase delay or lingering-boom. I should have popped on some Faith No More to get a feel for kick drums. Oh well, next time!
We also tossed on some good orchestral and Jazz tracks (Snarky puppy!). The midrange is really a highlight on this stereo, with every instrument coming alive. The guitar, cello and flute on Morning in Norkia from the anime Last Exile (random track, but absolutely excellent engineering) sounded like they're right in front of you. For fans of live instruments and vocals you'll be very happy. Synths and electronic music also do very well, with swelling sounds getting goosebumps immediately.
However, the system can also be unforgiving. You're going to notice poorly engineered tracks much more readily as you can
hear
the difference in quality between the live instrument and the synthesized one. Sampled music with hiss/hum or low quality takes will be clear as day. This is common in HiFi, but hearing it in a car is a first. It will bring out imperfections in ways that surprise you, an inadvertent drawback for the level of detail it provides.
That said, the overall experience is really joyful. There were moments that the music just really took over and the world melted away. I've not gotten that in a car before the Lucid!
Areas for Improvement
The system lacks volume in the absolute lowest octaves
and getting that bottom end to really hit. This could be compensated with EQ, but I didn't have time test what range the bass EQ will affect (some of them go all the way up to 300-400hz). It doesn't lack for extension, just output, and I don't believe it is from insufficient amplification. A feature I'd love to see from Lucid is the ability to more finely tune the response, or at least some improvement in percussion and sustained bass notes while dialing back the top. An optional 10-band or better EQ would be a nice option for advanced users.
The top end can be a bit bright
, especially with cymbal-heavy percussion, but I didn't detect a lot of distortion. Dialing this back a bit to reduce fatigue would help. I don't know what drivers are used, but this is common in titanium and aluminum dome tweeters that can get really tinny without some proper adjustment. I'm wondering if the glass canopy causes a lot of reflections or cancellations, which means they have to boost output to compensate. I've not designed a car stereo however, so I'm sure they've got their reasons why they bumped up the top-end.
(Note on treble: as you age your hearing in the higher range can diminish, which may make you want
more
treble to compensate. This is completely normal so take the top-end feedback with a grain of salt.)
Fix that extreme low-end
: I'm not sure if there are two subs instead of one, but a -3bd of 44hz is pretty high for what the car has. Maybe a shelf biquad with a high Q to raise it a few db?
Final Thoughts
This is absolutely an excellent system
. The level of detail in it is top-notch for a car stereo and with a little bit of adjustment you'll get a ton of enjoyment. I'd say this is designed more for extended listening without fatigue instead of thumping along. The end result is you'll find yourself listening to music longer without needing to turn it down, and will notice things that had been missing. It will capture your interest in a way most car stereos do not, akin to sitting in a dedicated listening room with a dialed-in system.
A lot of mass-market car stereos will hit the bass on a track hard. They'll get your blood going, but you also end up turning it down after a bit - there's distortion, ringing, or a "boom" that fatigues you. The Lucid does not suffer from this at all. Instead, it feels like a system that could use a few improvements, but gets so close to the mark that I really can't fault it, which says a lot.
I'm really surprised to get a stereo this good on the first car from a new carmaker. Surreal sound indeed!
Last edited: